Come with us to Svatá Hora
30.5.2018
The seventh pilgrimage of friends LL will be in Svatá Hora near Příbram on Saturday of June the 2nd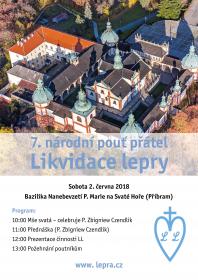 Program:
10:00 - Holy Mass (celebrated by P. Zbygniew Czendlik)
11:00 - Lecture by P. Zbygniew Czendlik
12:00 - Lecture about work of LL (by the President of DAHW Freifrau von Wiedersperg)
13:00 - Blessing to Pilgrims
We invite you all!
DO YOU KNOW…
We are helping people affected by leprosy in India, Liberia, Columbia and Tanzania. For more click HERE.
Czech Leprosy Relief is helps to heal Leprosy and TB more than 22 years?
31th of January is World Leprosy Day?
Bacteria of Leprosy (Mycobacterium leprae) was discover in 1874 by Norwegian microbiologist Hansen?
Around 95% of world population has nature immunity against Leprosy?
Bacteria of tuberculosis (Mycobacterium tuberculosis) was discover in 1882 by German Robert Koch?
Since 1941 has been Leprosy treatable?
To treat Leprosy is using Multidrug therapy (MDT), commbinations of dapson, rifampicin, clofazimin?